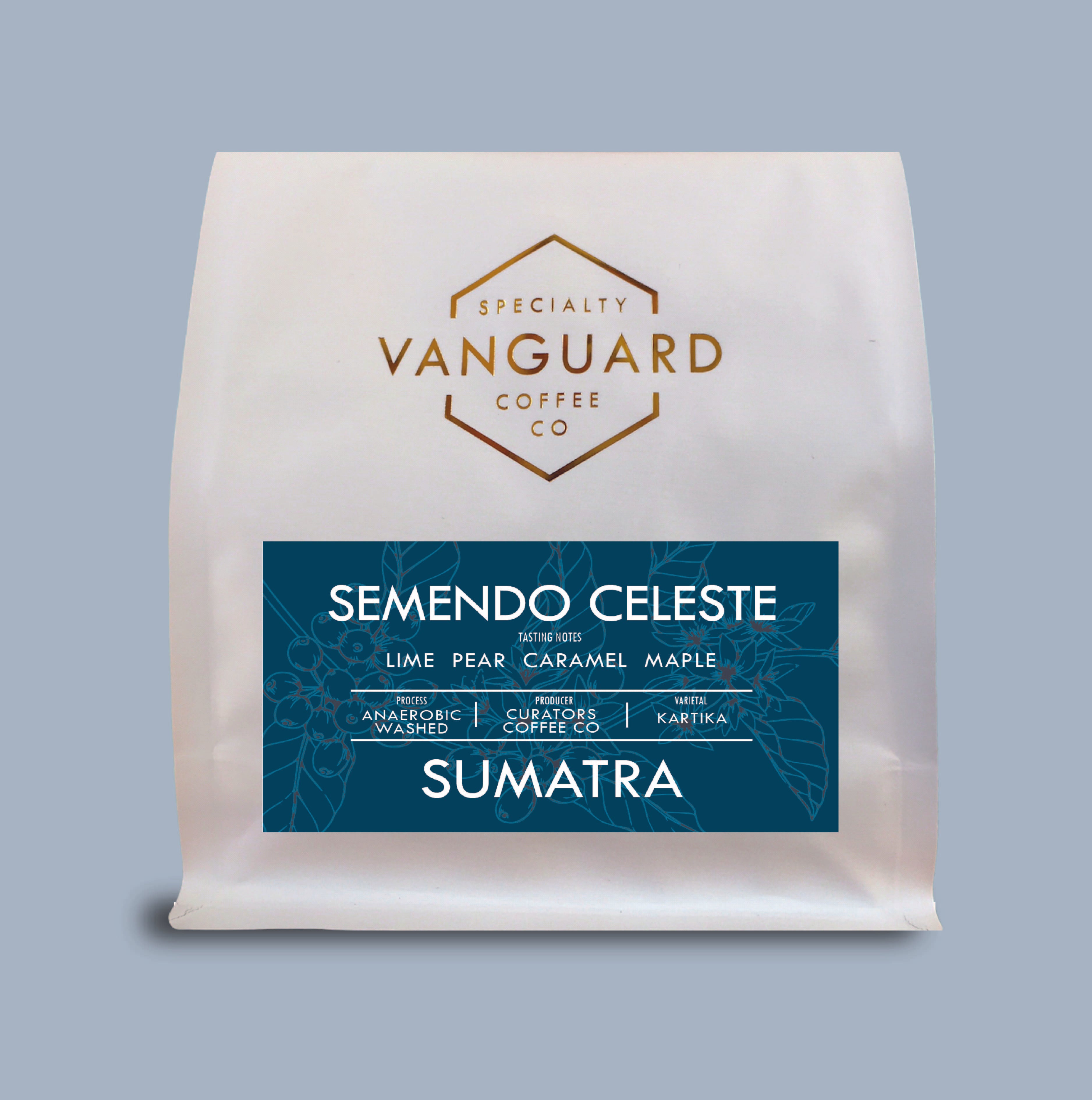 Sumatra Semendo Celeste - Filter Roast
TASTING NOTES
Lime
Pear
Caramel
Maple


ROASTERS NOTES:
A very unique and progressive coffee from Indonesia, not your usual flavour profile. Clean, complex and bright with balanced fruit notes
COUNTRY - Sumatra
REGION - Semendo, South Sumatra
ALTITUDE - 1650 M.A.S.L
VARIETAL - Kartika
PROCESSING METHOD - Washed - Hybrid Anaerobic Fermentation
CURATORS COFFEE/ BLOOM COFFEE PROJECT
Bloom Coffee Project is a collaboration of producers who's goal is to change the perception of Indonesian coffees amongst coffee consumers.
By applying various of experimental processing methods
to their highest quality beans, the producers introduced a wide range of very unique flavor compositions to the coffee market.
Some of Bloom's micro lots were acknowledged during recent national Cup of Excellence competition.
WASHED PROCESS
After the coffee cherries have been picked, the cherries are depulped (skin removed) or demucilaged (skin and pulp removed).
The coffees are typically then held in "fermentation tanks" for 12–72 hours, allowing for a gentle controlled fermentation to cause any remaining pulp to separate from the beans. Fermentation may occur from the moment of harvest until the seeds reach an inhospitable moisture content for them (11% moisture)
The beans are finally dried for up to 15 days on patios, raised beds, or in parabolic dryers until the ideal moisture content is reached.
Typically washed coffees have clean, articulate flavours; caramel or sugary sweetness; a wide spectrum of fruit acidity depending on other factors; capable of bright, crisp notes.

ANAEROBIC/ ANOXIC FERMENTATION
By sealing the cherries, either pulped or whole in an oxygen free environment (anoxic) it causes the microbes and yeasts to convert sugars and acids in the coffee's mucilage into different acids, CO2, ethyl alcohol, and other compounds. The beans will ferment somewhat differently depending on whether they are washed, naturals, or honeys, therefore leading to a variety of fruit and candy-like flavours.

KARTIKA
In Indonesia, Kartika stands for Kopi Arabika Tipe Katai -which translates as Catuai arabica coffee.
A localised version of the Catuai variety, Kartika is similarly extremely susceptible to coffee rust and other pests and diseases.
Kartika was first grown in Indonesia in of a mass variety test conducted by the Portuguese Centro de Investigacao das Ferrugens do Cafeirro in 1987. It was initially very popular because of its high-quality flavour profile.
However, when it was first introduced it to farmers, it turned out that Kartika needed a lot of fertilisers, far more than the farmers would usually require.
Farmers were not ready to adjust to the higher input required by Kartika and over time, it became infected with pests and nematodes.
Although it produces a high quality cup, it is not a widely grown varietal due to its limitations.